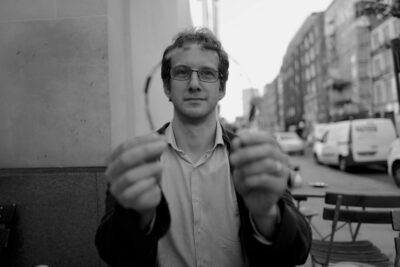 In this episode of the Immersive Audio Podcast, Oliver Kadel and Bjørn Jacobsen are joined by electronics engineer Ben Supper from London, UK.
Ben Supper started Supperware in 2018, with the aim of making hardware and software to meet the needs of professional musicians and engineers who work with immersive audio. The challenge has been to meet their needs for high accuracy, speed, and as little impact on their budget as possible. The first product to reach general sale is a head tracker, without which there's no point making anything else. He has spent a total of twenty years working as a product engineer and occasional manager for ROLI, Focusrite, and others. Some products he's particularly proud of co-developing to include the ROLI Seaboard, and the Novation Launchpad and Mininova. Before most of this, Ben obtained a PhD in the field of spatial psychoacoustics from Surrey in 2005 and was a graduate of the Tonmeister course in 2000. It is Ben's dream to make immersive audio work commercially this time around, and not to frighten away those casual experimenters and distractible creatives on whom its commercial and artistic success will completely depend.
In this episode, we dive deep into the topic of head-tracking for audio, and Ben expertly explains the advantages of using trackers for spatial sound and the process of making them.
Supperware is giving away a free tracker to one of our lucky listeners! It's very easy to enter – all details in the episode – submit your entry by Friday the 5th of March 2021.

Listen to Podcast
Show Notes
Music and Sound Recording (Tonmeister) BSc (Hons) University of Surrey – https://www.surrey.ac.uk/undergraduate/music-and-sound-recording-tonmeister
CujoSound YouTube Channel – https://www.youtube.com/channel/UCDe59ZJaYVueCUH55POlW3g
Ben Supper Website – https://supperware.net
Supperware – https://supperware.co.uk/
Head Tracker 1 – https://supperware.co.uk/store/p/mp9tjaluyjau8w74ue6nyhdp9uv6dc
Spatial Audio: Showing You What You Already Know – Ben Supper ADC20 – https://www.youtube.com/watch?v=9kRFK_Z2FRU
Roli – https://roli.com/
Our Patreon
If you enjoy the podcast and would like to show your support please consider becoming a Patreon. Not only are you supporting us, but you will also get special access to bonus content and much more.
Find out more on our official Patreon page – https://www.patreon.com/immersiveaudiopodcast
We thank you kindly in advance!
Survey
We want to hear from you! We really value our community and would appreciate it if you would take our very quick survey and help us make the Immersive Audio Podcast even better: surveymonkey.co.uk/r/3Y9B2MJ Thank you!
Credits
This episode was produced by Oliver Kadel and Emma Rees and included music by Rhythm Scott.