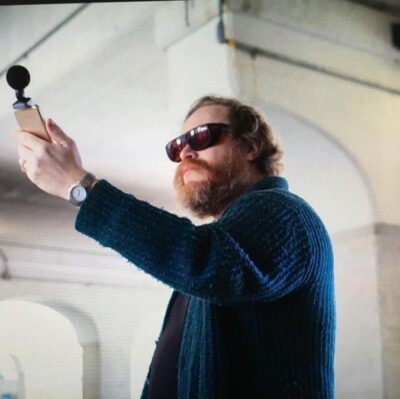 In this episode of the Immersive Audio Podcast, Oliver Kadel and Bjørn Jacobsen are joined by sound artist and disability advocate – Andy Slater from Chicago, US.
Andy Slater is a Chicago based media artist and disability advocate. He is the founder of the Society of Visually Impaired Sound Artists and director of the Sound As Sight accessible field recording project. His current work features the sounds of antiquated assistive technology, field recordings, spatial audio design for virtual and augmented reality, video games, and films. He works with analogue and FM synthesis in his sound design process with a lean towards retro-futurism, Classic sci-fi and video game sound, and blurry analogue tape charm. Andy has a masters in Sound Arts and Industries from Northwestern University and holds a BFA from the School Of the Art Institute of Chicago.
In this episode, Andy shares his unique journey full of frustrating battles and success stories. You will hear excerpts of Andy's conceptual artwork and find out about his mission of making the world of audio tech for blind and visually impaired people more accessible.

Listen to Podcast
Show Notes
Dear VR Micro Plugin – https://www.dearvr.com/products/dearvr-micro
EPOS GTW 270 Hybrid – https://www.eposaudio.com/en/gb/gaming/products/gtw-270-hybrid-low-latency-connection-bluetooth-gaming-headset-1000230
Andy Slater Website – https://www.thisisandyslater.net/
Shure Motiv Recording App – https://www.shure.com/en-GB/products/software/shure_plus_motiv
Microsoft Soundscape – https://www.microsoft.com/en-us/research/product/soundscape/
Apogee MetaRecorder App – https://apogeedigital.com/products/metarecorder
The Last of Us – https://www.naughtydog.com/blog/the_last_of_us_part_ii
Our Patreon
If you enjoy the podcast and would like to show your support please consider becoming a Patreon. Not only are you supporting us, but you will also get special access to bonus content and much more.
Find out more on our official Patreon page – https://www.patreon.com/immersiveaudiopodcast
We thank you kindly in advance!
Survey
We want to hear from you! We really value our community and would appreciate it if you would take our very quick survey and help us make the Immersive Audio Podcast even better: surveymonkey.co.uk/r/3Y9B2MJ Thank you!
Credits
This episode was produced by Oliver Kadel and Emma Rees and included music by Rhythm Scott.