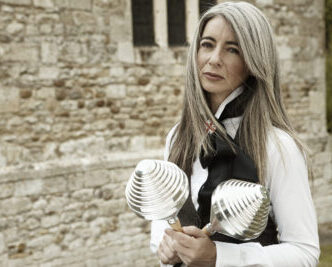 In this episode of the Immersive Audio Podcast, Oliver Kadel is joined by Grammy Award-winning percussionist and composer Evelyn Glennie via Zoom from Cambridgeshire, UK.
Dame Evelyn Glennie is the first person in history to successfully create and sustain a full-time career as a solo percussionist, performing worldwide with the greatest orchestras, conductors and artists. Evelyn paved the way for orchestras globally to feature percussion concerti when she played the first percussion concerto in the history of the Proms at the Royal Albert Hall in 1992. Evelyn has commissioned over 200 new pieces for solo percussion from many of the world's most eminent composers to vastly expand the percussion repertoire. She regularly provides masterclasses and consultations to inspire the next generation of musicians. The film 'Touch the Sound' and her enlightening TED speech remain key testimonies to her innovative approach to sound-creation. Leading 1000 drummers, Evelyn had the honour of a prominent role in the Opening Ceremony of the London 2012 Olympic Games. Evelyn was awarded an OBE in 1993 and now has over 100 international awards, including the Polar Music Prize and the Companion of Honour. She was recently appointed the first female President of Help Musicians, only the third person to hold the title since Sir Edward Elgar and Sir Peter Maxwell Davies. Evelyn is currently creating The Evelyn Glennie Collection with a vision to open a centre that embodies her mission to Teach the World to Listen. She aims to 'improve communication and social cohesion by encouraging everyone to discover new ways of listening as proven in her book 'Listen World!'. We want to inspire, to create, to engage and to empower'.
In this episode, Evelyn talks about her unique journey and perspective as a musician and dives deep into her long-time mission – to teach people how to listen.

Listen to Podcast
Show Notes
Official website – https://www.evelyn.co.uk/
Official Youtube – https://www.youtube.com/user/DameEvelynGlennie
Evelyn Glennie Podcast – https://www.evelyn.co.uk/theevelynglenniepodcast/
Book Link – https://www.evelyn.co.uk/shop/books/listen-world-book/
Spotify – https://open.spotify.com/artist/6MYiQGy8MIcBps6Ez0IQA8?si=Djlmv6eERduDFsFJOlN_eQ
TED Talk – How to truly listen – https://www.ted.com/talks/evelyn_glennie_how_to_truly_listen?language=en
Survey
We want to hear from you! We really value our community and would appreciate it if you would take our very quick survey and help us make the Immersive Audio Podcast even better: surveymonkey.co.uk/r/3Y9B2MJ Thank you!
Credits
This episode was produced by Oliver Kadel and Michelle Chan with the help of Emma Rees and included music by Knobs Bergamo.
Image credit – Produktion Bärbel Recktenwald England