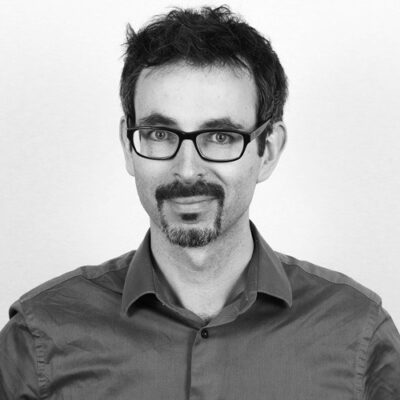 In this episode of the Immersive Audio Podcast, Oliver Kadel is joined by Executive Director, and Creative Technologist at L-Acoustics Guillaume Le Nost via Zoom from London, UK.
Driven by a passion for sound and technology, Guillaume has built a career in both the artistic and technical domains.
After getting two MScs in electrical engineering and signal processing from Ecole Centrale Paris and IRCAM, he started a research career in 3D sound, and received a PhD in Acoustics. He then performed as a professional rock musician and managed an indie music label before going on to co-found the start-up AudioGaming, a pioneer in audio synthesis technologies and French Ministry of Research award-winner.
He joined the L‑Acoustics R&D department in France in 2009 where he led projects on acoustic measurement and simulation, and developed new signal processing algorithms for integration into L‑Acoustics software and amplified controllers. Guillaume moved to London in 2012 to head the company's research efforts into immersive audio for live sound. Since then, L-ISA object-based audio technology has been deployed in more than 5000 live shows, from clubs to arenas across the world, with artists such as Aerosmith, Lady Gaga, Bon Iver, Alt-J, or the BBC Proms.
In this episode, Guillaume talks about how the live sound industry is undergoing a quiet revolution by adapting immersive audio and how their latest L-ISA technology empowers sound engineers to break through long standing conventions.
The binaural audio excerpt by Molecule from the Acousmatic 360 tour, performed live at "Printemps de Bourges" with a 12.1 system. The spatialization is done in real-time using L-ISA by a live mixing engineer Herve Dejardin.

Listen to Podcast
Show Notes
L-Acoustics – https://www.l-acoustics.com
L-ISA – https://l-isa-immersive.com/
L-ISA Controller – https://www.l-acoustics.com/fr/produit/l-isa-controller/
L-Acoustics Soundvision – https://www.l-acoustics.com/en/software/soundvision-presentation/
We Make Events Initiative – https://www.wemakeevents.com/
Owl Project – https://www.kickstarter.com/projects/marser/owl-programmable-effects-pedal
Survey
We want to hear from you! We really value our community and would appreciate it if you would take our very quick survey and help us make the Immersive Audio Podcast even better: surveymonkey.co.uk/r/3Y9B2MJ Thank you!
Credits
This episode was produced by Oliver Kadel and Michelle Chan with the help of Emma Rees and included music by Knobs Bergamo.