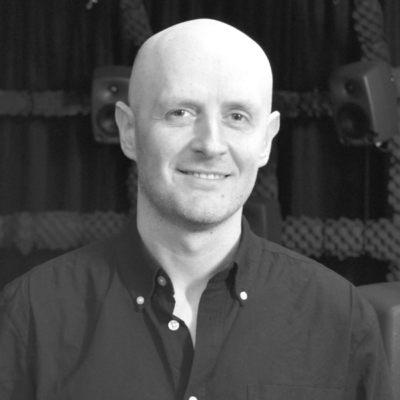 Today, Oliver was joined in studio by Dr. Gavin Kearney, Senior Lecturer in Audio and Music Technology at the University of York. Gavin received an honours degree in electronic engineering from Dublin Institute of Technology, in 2002 and M.Sc. and Ph.D. degrees in audio signal processing from Trinity College Dublin in 2006 and 2010 respectively. He subsequently worked as a Postdoctoral Research Fellow on game audio, while lecturing on the Interactive Digital Systems and Music and Media Technology masters courses at Trinity College Dublin.
He was appointed Lecturer in sound design at the Department of Theatre, Film, and Television at the University of York in January 2011 where he currently teaches both bachelors and masters level courses on spatial audio and surround sound, audio engineering and sound production and postproduction methods. Gavin also continues to work in the audio industry as a sound engineer and designer.
In this episode, Gavin focuses on ongoing research, industry practice standards and enhancing audio description.
Audio extracts are taken from the first-person drama Pearl, a film produced at the University of York with Binaural enhanced audio, and a music recording session from Abbey Road Studios featuring Nova Neon.
Listen to Podcast
Shownotes
Dublin Institute of Technology: http://www.dit.ie/
Trinity College Dublin: https://www.tcd.ie/
University of York: https://www.york.ac.uk/
University of York – MA Postproduction with Sound Design: https://www.york.ac.uk/study/postgraduate-taught/courses/ma-postproduction-sound-design/
MSc Audio & Music Technology: https://www.york.ac.uk/electronic-engineering/postgraduate/taught_masters_degrees/msc_audio/
Pro Tools: http://www.avid.com/pro-tools
SADIE Project: www.sadie-project.co.uk
Dolby Atmos: https://www.dolby.com/us/en/brands/dolby-atmos.html
Oculus: www.oculus.com/
Enhancing Audio Description: http://enhancingaudiodescription.com/
AES: Audio for New Realities: http://www.aes.org/press/?ID=390
AES: Audio for Games technical committee: http://www.aes.org/technical/ag/
Unity: https://unity3d.com/
2018 AES International Conference on Spatial Reproduction — Aesthetics and Science (Japan): http://www.aes.org/conferences/2018/spatial/
2018 AES International Conference on Audio for Virtual and Augmented Reality (Seattle): http://www.aes.org/conferences/2018/avar/
2019 AES International Conference on Immersive and Interactive Audio (York): http://www.aes-uk.org/forthcoming-meetings/2019-aes-international-conference-on-immersive-and-interactive-audio/
The Knife that Killed Me: https://www.imdb.com/title/tt2087982/
Abbey Road Recording Studios: https://www.abbeyroad.com/