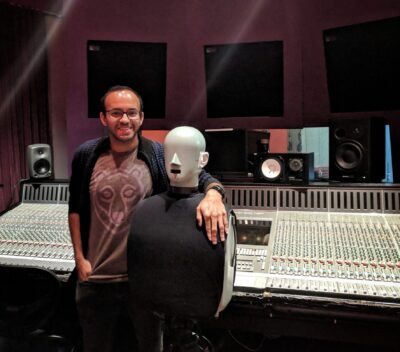 In this episode of the Immersive Audio Podcast, Oliver Kadel is joined by the Director of Engineering at Embody – Kaushik Sunder, from San Francisco, US.
Kaushik Sunder currently heads the overall Engineering efforts and also leads the Audio and Acoustics Research Team at EMBODY. Kaushik has spent a great deal of his research career in the field of 3D Audio and Psychoacoustics. Over the last few years, his research has focussed on understanding the importance of personalized HRTFs particularly for headphone playback of spatial audio. Prior to working at Embody, Kaushik served as a role of Research Scientist at Ossic and as a Postdoctoral Researcher at the Sound Recording Department, Schulich School of Music at McGill University. He is also a visiting research scientist at the Human factors department at NASA Ames Research Center. Kaushik received his PhD from the Digital Signal Processing Laboratory, NTU Singapore. He has regularly authored articles appearing in the Journal of Acoustical Society of America, IEEE Signal Processing Magazine, Journal of Audio Engineering Society, and AES International Conventions.
In this episode, we dive deep into the topic of personalised listening for spatial audio, and Kaushik expertly explains the science behind personalised HRTF and the advantages of its usage in the studio.

Listen to Podcast
Show Notes
Kaushik Sunder – https://www.linkedin.com/in/kaushik-sunder-9445b314/
Embody – https://embody.co/
This Is Your Brain On Music Book – https://en.wikipedia.org/wiki/This_Is_Your_Brain_on_Music
NASA AMES Research Centre – https://www.nasa.gov/ames
Ossic – https://www.kickstarter.com/projects/248983394/ossic-x-the-first-3d-audio-headphones-calibrated-t
Audeze – https://www.audeze.com/
Ambi Decoder – https://new.steinberg.net/immerse/
Our Patreon
If you enjoy the podcast and would like to show your support please consider becoming a Patreon. Not only are you supporting us, but you will also get special access to bonus content and much more.
Find out more on our official Patreon page – https://www.patreon.com/immersiveaudiopodcast
We thank you kindly in advance!
Survey
We want to hear from you! We really value our community and would appreciate it if you would take our very quick survey and help us make the Immersive Audio Podcast even better: surveymonkey.co.uk/r/3Y9B2MJ Thank you!
Credits
This episode was produced by Oliver Kadel and Emma Rees and included music by Rhythm Scott.