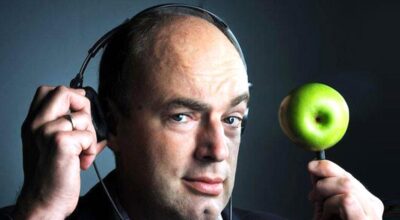 In this episode of the Immersive Audio Podcast, Oliver Kadel is joined by world-famous experimental psychologist and Professor at the University of Oxford – Charles Spence via Zoom from Oxford, UK.
Professor Charles Spence is a world-famous experimental psychologist with a specialization in neuroscience-inspired multisensory design. He has worked with many of the world's largest companies across the globe since establishing the Crossmodal Research Laboratory (CRL) at the Department of Experimental Psychology, Oxford University in 1997. Prof. Spence has published over 900 academic articles and edited or authored, 15 books including, in 2014, the Prose prize-winning "The perfect meal", and the international bestseller "Gastrophysics: The new science of eating" (2017; Penguin Viking) – winner of the 2019 Le Grand Prix de la Culture Gastronomique from Académie Internationale de la Gastronomie.
In this episode, Charles opens up about the world of multisensory design focusing on how sound affects our perception of taste and much more.

Listen to Podcast
Charles Spence Extended Bio
Much of Prof. Spence's work focuses on the design of enhanced multisensory food and drink experiences, through collaborations with chefs, baristas, mixologists, chocolatiers, perfumers, and the food and beverage, and flavour and fragrance industries. Prof. Spence has worked extensively in the world of multisensory experiential wine and has also worked extensively on the question of how technology will transform our dining/drinking experiences in the future.
The research conducted at the Crossmodal Research Laboratory in Oxford has garnered widespread media attention across the globe, including in The Economist (February 4-10th, 2012, p. 74), and The Financial Times (3rd June, 2013, p. 14; http://www.ft.com/cms/s/0/6bc0fa04-c175-11e2-9767-00144feab7de.html#axzz2VEbNyXiR) and has been profiled in The New Yorker (http://www.newyorker.com/magazine/2015/11/02/accounting-for-taste). Over the last decade alone, Prof. Spence and the CRL have been featured in more than 3,000 newspaper articles, radio interviews, and television programs.
Prof. Spence frequently delivers consumer neuroscience lectures and courses to global companies, and business schools and schools of business administration, such as at Los Andes, Rosario University, and Javariana University in Colombia, the Saïd Business School, Oxford, and the Singapore Business School.
Prof. Spence has been awarded numerous national and international prizes for scientific excellence, including the 10th Experimental Psychology Society Prize, the British Psychology Society: Cognitive Section Award, the Paul Bertelson Award, recognizing him as the young European Cognitive Psychologist of the Year, and, the Friedrich Wilhelm Bessel Research Award from the Alexander von Humboldt Foundation (Germany): 'in recognition of past accomplishments in research and teaching'. In 2008, together with Dr. Max Zampini, he was awarded the 2008 IG Nobel prize for nutrition for his work on 'the sonic crisp'
Show Notes
Charles Spence – Sensploration (FoST 2016) – https://vimeo.com/170509976
Accounting for Taste How packaging can make food more flavorful – http://www.newyorker.com/magazine/2015/11/02/accounting-for-taste
"The Perfect Meal" | Talks at Google – https://www.youtube.com/watch?v=JgUVjKsP_wc
Heston Blumenthal – https://en.wikipedia.org/wiki/Heston_Blumenthal
Fat Duck – https://thefatduck.co.uk/
ASMR – https://www.1618digital.com/immersive-audio-podcast-episode-11-asmr-the-feeling-of-sound
AEG Tasteology – http://www.aeg.co.uk/taste/inspiration/tasteology/
Neurocuisine, The Guardian – https://www.theguardian.com/lifeandstyle/video/2016/may/23/neuro-cuisine-exploring-the-science-of-flavour-video
Multisensory Experience and Coffee – Reco Symposium – https://www.youtube.com/watch?v=vVKabsudi1I
Unexpected connections – pleasure and pain: Charles Spence at TEDx UHasselt – https://www.youtube.com/watch?v=NVt-QrNFZso
Entomophagy in our world, TEDx City University London – https://www.youtube.com/watch?v=iQEX-kMpz-4
Spence LSE Gastrophysics talk – https://www.youtube.com/watch?v=HB_B9hfsNXI
Spence Going Underground TV – https://www.youtube.com/watch?v=56e5UZJreg0
For multisensory packaging video, see – https://www.youtube.com/watch?v=tV3SRKFpEsg
Nuffield Triannual Food Conference – https://www.youtube.com/watch?v=ePguEqCJ7Ks
Taste of General Mills Podcast, Making food your five senses will love – http://www.blog.generalmills.com/2016/09/podcast-making-food-your-five-senses-will-love/
Chef Jozef Youssef – http://kitchen-theory.com/staff-member/jozef-youssef/
Charles Spence Book "Gastro Physics" – https://www.amazon.co.uk/Gastrophysics-Science-Eating-Charles-Spence/dp/0241977746/ref=tmm_pap_swatch_0?_encoding=UTF8&qid=&sr=
Survey
We want to hear from you! We really value our community and would appreciate it if you would take our very quick survey and help us make the Immersive Audio Podcast even better: surveymonkey.co.uk/r/3Y9B2MJ Thank you!
Credits
This episode was produced by Oliver Kadel and Michelle Chan with the help of Emma Rees and included music by Knobs Bergamo.