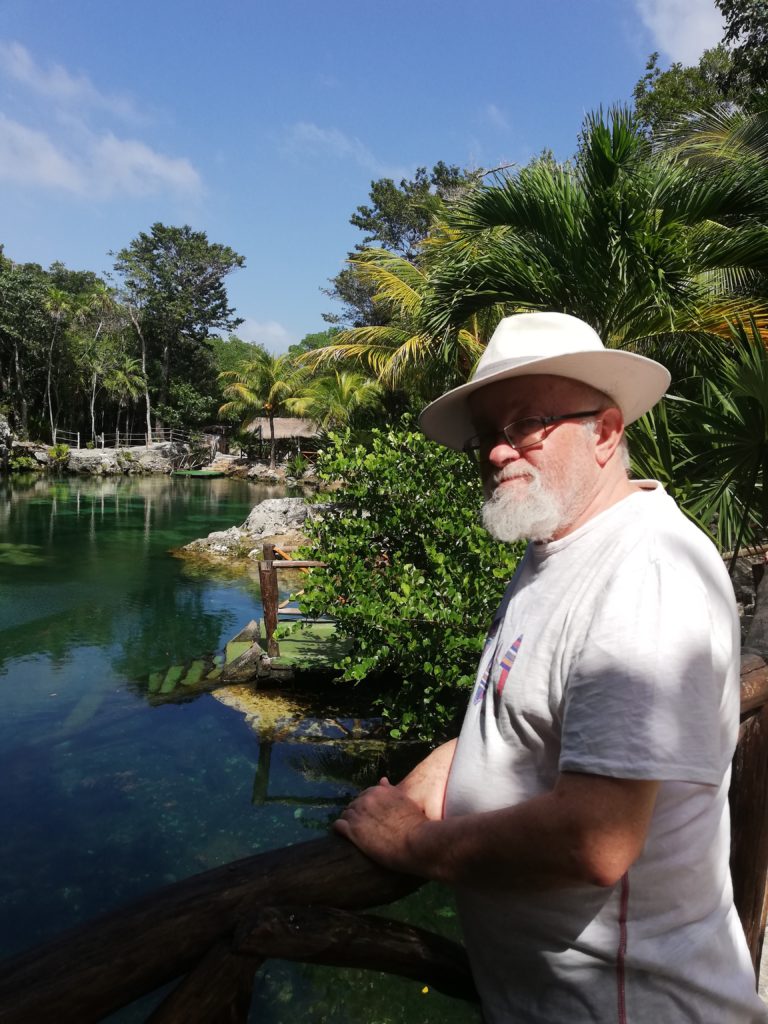 For this episode of the Immersive Audio Podcast, Oliver Kadel is joined via Skype by Dave Malham, ambisonics researcher, retired Experimental Officer at the University of York and half of the team behind the FuMa format.

Dave Malham's professional interests are in digital audio and related computing systems, post-stereo multidimensional sound projection systems such as ambisonics, electroacoustic music and recording engineering. He worked in the Department of Music from 1973 to 2012 and was Experimental Officer in the Music Research Centre with special responsibility for the Music Technology Group, which he helped found in 1986.

During the 1980s he was responsible for the hardware and low level software that enabled the Composers Desktop Project computer music system to be realised on Atari ST computers. He developed this into the Audio Design SoundMaestro digital audio editing system.

Since then he has been responsible for the design of the Focusrite Blue245 20 bit, the Audio design PB4 18 bit and PB4+ 24bit stereo audio ADCs, as well as the microcontrollers, sensors and RF link technologies for the RIMM project and the hardware for Craig Vear's "Singing, Ringing Buoy" project. He has written a number of VST plugins for ambisonic processing, the "MRC Stereometer" which implements Bob Katz's K-system metering system as a VST plugin and, with Matt Paradis, the "ambilib" ambisonic processing library for PD as well as Max/MSP.

His research relates to digital audio, signal preservation, sound spatialisation and recording techniques. He has engineered 18 LPs and CDs and has edited several others. His research topics include advanced sound spatialisation technologies, the applications of spatialisation systems in musical composition and the development of sensing devices for musical performance applications. He has been an Audio Engineering Society member since 1975 and he has a patent, WO02085068, for the Ambisonic Sound Object Format.

Today, Oliver and Dave discuss the impact that Malham has had on the Immersive Audio industry we know today, audio production in the 70s and 80s, and the advancements of ambisonics into the digital era.
Listen to Podcast

Show Notes

University College Cardiff/South Wales University: https://www.southwales.ac.uk/about/location/cardiff-campus/

Michael Gurson: https://en.wikipedia.org/wiki/Michael_Gerzon

Soundfield Official Website: https://www.soundfield.com/#/home

Lake Processing: https://www.lakeprocessing.com/brand/lake/technologies

Music Tech Masters Course at University of York: https://www.york.ac.uk/study/postgraduate-taught/courses/msc-audio-music-technology/

FuMa Format Ambisonic Data Exchange Formats: https://en.wikipedia.org/wiki/Ambisonic_data_exchange_formats#Furse-Malham

Peter Fellgatt: https://en.wikipedia.org/wiki/Peter_Fellgett

Studio Sound Magazine September '84 Issue PDF: https://www.americanradiohistory.com/Archive-Studio-Sound/80s/Studio-Sound-1984-09.pdf

Blue Ripple: http://www.blueripplesound.com/

Dalek voice example: https://www.youtube.com/watch?v=mxD-5z_xHBU

Codemasters: http://www.codemasters.com/

Yorkshire Dales: http://www.yorkshiredales.org.uk/

Humber Bridge: https://www.humberbridge.co.uk/

York Minster: https://yorkminster.org/

The Morning Line Sculpture (ZKM, Karlsberg Germany): https://zkm.de/en/artwork/the-morning-line

The Singing Ringing Buoy by Craig Vear: https://prsfoundation.com/2005-finalists/singing-ringing-buoy/

A Collection of Small Choices at Hoxton Music Hall: https://www.hoxtonhall.co.uk/event/collection-small-choices/
Audio Engineering Society: http://www.aes.org/
This episode was produced by Abbigayle Bircham, Gillian Duffy, Oliver Kadel, Felix Thompson and included music by Knobs Bergamo.

If you can, head to our page on iTunes and leave us a review and rating – it really helps us out in pushing our show further! The podcast is also available on Soundcloud and Stitcher.

Would you like to hear from a particular person, company or a certain topic area in the XR industry? Please get in touch at [email protected] telling us what you want to hear on the Immersive Audio Podcast.

Visit 1618digital.com to access the show notes and other episodes. Follow us @1618digital on Twitter and Instagram.