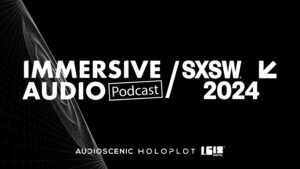 Summary
SXSW 2024 Panel Picker Announcement 📢 "State of Play of Immersive Audio: Past, Present & Future"
It's been almost six years since we started the Immersive Audio Podcast and as we are coming up to our 100th release anniversary we wanted to mark this milestone with a special edition at SXSW 2024.
With the hindsight of releasing almost 100 episodes, we've met a lot of companies and experts covering a broad spectrum of topics fundamental to our industry. This panel will highlight the key indicative developments that have defined the immersive audio industry for the past decade, reflect on the current trends and look forward to the future. Our four expert guests and moderators Audioscenic, HOLOPLOT, 1.618 DIGITAL, Monica Bolles will cover the key sectors: large-scale immersive events, interactive live performance, spatial audio for consumer devices, virtual training for VR and immersive media production.
Listen to Podcast
Show Notes
Please support our idea and give us your vote!
Voting link -> https://panelpicker.sxsw.com/vote/132288
Voting Deadline Midnight 20th of August 2023.
Survey
We want to hear from you! We really value our community and would appreciate it if you would take our very quick survey and help us make the Immersive Audio Podcast even better: surveymonkey.co.uk/r/3Y9B2MJ Thank you!
Credits
This episode was produced by Oliver Kadel and Emma Rees and included music by Rhythm Scott.